Insurance Fraud, Are You At Being Scammed?
Insurance Fraud, Claims Validation & Loss Liability
Tackling insurance fraud remains an industry strategic priority. In 2016, insurers detected 125,000 dishonest insurance claims valued at £1.3 billion. It is estimated that a similar amount of fraud goes undetected each year. This is why insurers invest at least £200 million each year to identify fraud.
Insurance fraud cuts across every type of insurance. At one end of the spectrum, fraud may be committed by opportunists, where people encounter an opportunity, or to deliberately or recklessly provide false information when applying for insurance. At the other end, there are highly organised criminal gangs, for example fraudsters involved in 'crash for cash' motor fraud scams. Insurance fraud is a serious crime which can result in serious consequences for fraudsters. They may find their future job prospects impacted, find it harder to obtain insurance and other vital financial services, obtain a criminal conviction and even face the prospect of imprisonment.
Insurance fraud also impacts on society at large as valuable public resources, such as those in the NHS and courts, are spent on dealing with fraudulent cases. And honest policyholders pay higher insurance premiums to cover the cost of these claims.
Insurers remain committed to providing excellent service and paying all genuine claims as quickly as possible. However, fraud remains a significant threat to the industry. To protect honest customers, the industry has invested, and will continue to invest, significant resources in deterring and detecting insurance fraud. Aviva alone detected a 5.4% increase in the value of fraud in 2018. This was worth £90 million which is the equivalent to £246,000 of fraud every day. The growth was driven by a 6.3% increase in the number of fraudulent claims detected from the previous year. Insurance fraud, such as false claims and exaggerating injuries isn't a victimless crime. At Titan Investigations we are committed to the lawful gathering of evidence and go the extra mile to obtain it during the course of our fraud investigations.
What is insurance fraud?
Below are examples of insurance fraud that Titan has encountered. These are typical examples, but not an exhaustive list. Fraud is committed when a policyholder deliberately conceals details such as:
Who the occupants of a vehicle were at the time of an accident.
Exaggerating the extent of injuries to increase an insurance pay out
Being dishonest as to the details of a claim.
Fabricating the psychological effects of an accident.

Or a claimant may provide false details about:
How a vehicle is used, for example for business purposes.
The value of items insured.
The main user of a car.
The number of years' No Claims Bonus entitlement.
The answers to questions asked during the quotation process. For example, date of birth or occupation of any of the drivers named on a policy.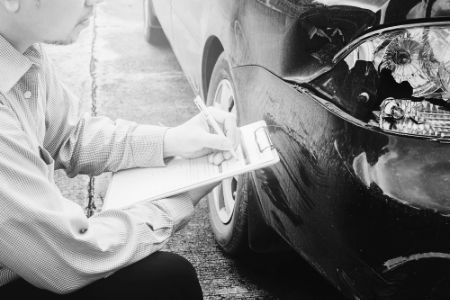 So What Are The Facts?
A total of 562,000 insurance frauds were detected by insurers. Of these there were 113,000 fraudulent claims, and 449,000 dishonest insurance applications.
The number of dishonest insurance claims, at 113,000, were valued at £1.3 billion. The number was down 8% on 2016, while their value rose slightly by 1%. The fall in number reflects the industry's collaborative work in detecting and deterring fraud.
The number of organised frauds, such as staged motor accidents, fell 22% on 2016, with frauds worth £158 million detected. This reflected the work of the Insurance Fraud Bureau (IFB), who are currently investigating a rising number of suspected frauds, and the Insurance Fraud Enforcement Department (IFED). IFED is the specialist police fraud unit investigating insurance fraud, such as staged motor accidents and illegal insurance advisers (so-called ghost brokers). Since its formation in 2006, IFED has secured over 400 court convictions for insurance fraud.
The value of fraudulent detected motor insurance claims, at £775 million, rose by 4% on 2016.The number of these frauds, at 67,000, showed a small rise.
Fraudulent property insurance claims fell. The number detected dropped by 11% on 2016 to 22,000, with a value of £100 million.
Insurers detected 449,000 cases of confirmed or suspected application fraud, where people lied or withheld information to try and get cheaper cover. Motor insurance made up the bulk of dishonest applications, with typical lies including the nature of the applicant's occupation, and driving record, where previous claims and motoring convictions were not disclosed.
Reporting insurance fraud
Insurance fraud is not a victimless crime. Fraudulent claims drive up prices for honest customers and makes your insurance more expensive. By reporting fraud, you can help identify fraudsters and, with the support of regulators and police, they will be brought to justice.
Insurance Fraud – Who do I Contact?
Titan Private Investigation's dedicated 'Claims Validation Fraud Team' are awaiting your call, whether it be to simply offer advice or to take instruction. All forms of contact will be treated in the utmost confidence. Titan offers this service throughout London, Cambridge, Derby, Nottingham, Leicester, Sheffield and surrounding areas. We also offer our corporate Investigation services both nationally and internationally and can be contacted or visited at the locations below:
Titan Investigations Claims Validation Teams

London Fraud Investigations – Call our London Office 020 39046622
Cambridge Fraud Investigations – Call our Cambridge Office 01223 662022
Derby Fraud Investigations – Call our Derby Office 01332 504256

Nottingham Fraud Investigations – Call our Nottingham Office 01159 646950

Leicester Fraud Investigations – Call our Leicester Office 0116 2436520


Sheffield Fraud Investigations – Call our Sheffield Office 0114 3499400
Alternatively, contact us by direct email using our fully confidential contact form and one of our team will get right back to you or talk to us directly using our Live Chat.