20 Reasons to Hire a Private Investigator in Leeds
20 Reasons to Hire a Private Investigator in Leeds
Private Investigator in Leeds. There are a plenty of reputable investigators to chose from, but why would you want to hire one? Titan Investigations gives you 20 reasons why you might want a Titan Leeds Private Investigator.
Private investigation is a legal process to uncover the evidence you require, whether that be to prove your suspicions that you have a cheating partner; or a commercial investigation such as corporate espionage or fraud.
Titan Investigations has over 24 years of investigation experience, investigating pretty much anything you can imagine. Our evidence is gathered lawfully and admissible in a criminal court if so required. We have nine UK offices located in London, Cambridge, Leicester, Nottingham Derby, Birmingham, Sheffield, Leeds and Manchester, offering a nationwide service. Titan Investigations is BS9001 Quality Management certified and has developed a reputation as a leading market provider for investigation services and training.
So why may you require the assistance of a Private Investigator?
Here are 20 examples of why you may need hire a Private Investigator in Leeds.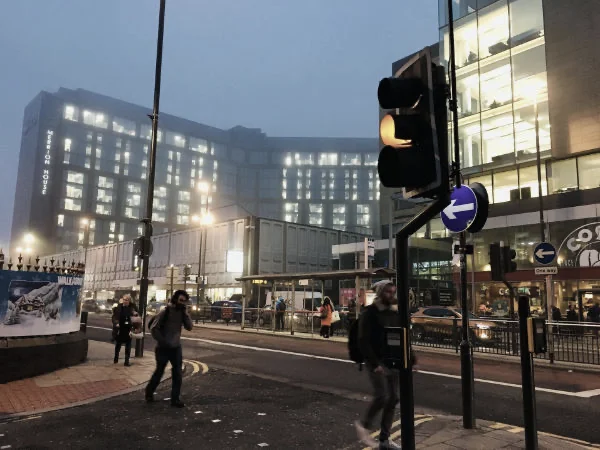 Leeds Cheating partner
Not knowing whether your partner is being faithful or not can be very painful and may feel like your life is on hold. Titan's Leeds Private Investigators are deployed on a daily basis to uncover the truth and discover whether your suspicions are correct. Video and photographic evidence can't be disputed and allows clients to see first-hand whether they have a cheating partner.
Untrustworthy business partner or associate
A business is only as good as its employees! Do you have concerns that an employee may be damaging the reputation of your business? Titan Investigations can deploy a surveillance at short notice Nationwide to confirm or denounce your suspicions.
Employee misconduct (theft, absenteeism, injury claims)
Do you have an employee who regularly utilises sick leave and wish to know whether they are genuinely ill? Do you suspect that they may be steeling from your business and want to catch them in the act? Titan Investigations have orchestrated a number of sting operations Nationally to identify the perpetrators of business theft.
Online dating enquiries
Whether you met your Mr or Mrs Perfect online or offline, these days it pays to be cautious and do your diligence. How do you know the individual you met over the internet, or socially is truly who he or she claims to be? The answer is you don't. Clients rely on private investigation companies to conduct comprehensive dating background checks to verify education, employment, address, criminal and court records, ID or passport, date of birth and much more.
Cohabitation enquiries
Cohabitation enquiries are usually prevalent in divorce proceedings when financial settlements are being established. If a partner is hiding the fact that they are cohabiting with a new partner then your financial settlement may be considerably reduced. Do you have a suspicion that your estranged partner is living with a new partner and not declaring it on a Form E?
Leeds Person tracing
Do you want to be reunited with an old school or university friend, maybe a family member who you've lost touch with or locating biological parents after adoption. Titan Investigations can help you. The minimum information we require is the individual's name, date of birth or approximate age. A last known address is desirable however not essential.. We will get the result back to you with 24 hours.
Missing persons
This service is similar to Person Tracing, however usually a lot more protracted and time scales will be increased as a result. We use the same techniques as the Police; the main difference being that you will have a dedicated researcher who is only working on your case and has the time to be thorough.
Divorce and family law investigations
During divorce proceedings partners may try to hide assets or pension schemes from you and your solicitor so that they aren't taken into account during a financial settlement. Titan Investigations are able to conduct asset checks and locate pension schemes and bank accounts so that all finances are taken into account during this difficult time.
Child custody cases
To successfully win a child custody case you must uncover facts that are compelling and admissible in a court. Titan investigations' detectives can serve as witnesses in a case and prove facts that are tough to prove on your own. Even a potentially difficult case can turn into a relatively simple one at trial with the right facts and evidence.
Surveillance
This is Titan Investigations' speciality. We regularly deploy our skilled surveillance operatives Nationally, whether that be to perform static observations, mobile or foot surveillance. We will tailor the investigation to your needs and budget. Maybe you think you're being followed and require counter surveillance to detect this?
Polygraph Testing/Lie Detector
Titan Investigations offers Polygraph Testing Nationally. Our Polygraph examiners are all registered members of the American Polygraph Association (APA) and the British Polygraph Association (BPA). Polygraph testing is 90% successful at discovering the truth.
GPS vehicle tracking
GPS vehicle trackers are a less expensive method of monitoring where a vehicle or asset is 24 hours a day, 7 days a week. May be it be for peace of mind of a valuable asset or to locate a cheating partner's meeting place. The device can be monitored up to every 5 seconds real time or interrogated historically.
Identity theft
Identity theft is where a person's personal information is stolen and used to commit criminal acts such as fraud or theft. Instances of this are on the increase and millions of pounds a day are lost as a result. Titan Investigations will endeavour to identify the perpetrator and create an evidence package for the Police to pursue.
Graphology/Forensic Document Examination
Forensic document examination work involves precision, expertise and skill. Titan Investigations' qualified examiners thoroughly observe the documents in question to draw expert conclusions which are admissible in tribunals, civil and criminal courts. This includes verifying the authenticity of documents, including erasures and indentations.
Road accidents
Road accident investigations can be utilised to disprove or apportion blame or to identify foul play such as the notorious so called 'crash for cash' claims.
Insurance fraud claims
Insurance fraud happens when an act is committed with the intent to obtain a benefit in which a person is not otherwise entitled. False insurance claims are filed with the intent to defraud an insurance provider and they cost billions of pounds each year. It may be that an individual has sustained an injury from an accident and the level of debilitation is in question.
Fraud investigations
All too often, businesses find themselves in a situation where assets are missing, books aren't kept accurately or bribes have been taken. Titan Investigations can determine if assets are fictitious, improper payments were made or whether there were other misrepresentations by conducting forensic accounting.
Background checks for potential business partners/employees
If your business is currently hiring you may be aware of false CV's and backgrounds which could potentially put your business and/or reputation at risk. We can verify these by searching into the applicant's history and provide you with peace of mind.
Industrial espionage
Would it be beneficial for a competitor to know your trade secrets or your business' client base? May be you have an employee who is passing on intellectual property or being headhunted with the view of taking information with them. Titan Investigations have extensive knowledge and experience of such cases and are able to appraise you of the facts whether it's by deploying a surveillance or through forensic examination of databases and documents.
Serving legal process
Process serving is the serving of legal documents upon individuals which we offer Nationwide. Are you a solicitor who requires professional and fully trained process servers to have a legal background? Titan Investigations' process servers are generally from a law enforcement background with extensive knowledge of the law.
Hire a Private Investigator in Leeds, who do I contact?
One of Titan's dedicated team are awaiting your call which will be treated in the utmost confidence. Titan offers this service nationally and can be contacted or visited at the locations below;
London Private Investigators – Call the Titan Investigations London Office 02039046622
Cambridge Private Investigators – Call the Titan Investigations Cambridge Office 01223662022
Leicester Private Investigators – Call the Titan Investigations Leicester Office 01162436520
Nottingham Private Investigators – Call the Titan Investigations Nottingham Office 01159646950
Derby Private Investigators – Call the Titan Investigations Derby (Head Office) 01332504256
Birmingham Private Investigators – Call the Titan Investigations Birmingham Office 01217162442
Sheffield Private Investigators – Call the Titan Investigations Sheffield Office 01143499400
Leeds Private Investigators – Call the Titan Investigations Leeds Office 01134574066
Manchester Private Investigators – Call the Titan Investigations Office 01613023008
Alternatively, contact us by email at enquiries@titaninvestigations.co.uk or use our fully confidential contact form and one of our team will get right back to you or use our Live Chat facility to chat directly to one of our Leeds Private Investigators.