Employee Moonlighting in Nottingham
Do you suspect a Nottingham based employee of "Moonlighting" being employed elsewhere, in addition to their regular job?
This may also be referred to as "Employee Moonlighting" and is more common than you may think, particularly where there is little or no supervision of the individual. This obviously wouldn't be possible during work time in a target driven environment, but maybe you have employees who;
Work from home
Regularly leave the office unannounced
Have increased stress levels and appear tired on commencement of the working day
Disappear regularly for hours on end to attend "meetings"
Call in sick regularly or on extended sick leave
Mention another company accidentally in conversation
Answer a phone and mention the wrong company name
Reduce their hours
These are all tell-tale signs of a moonlighting employee. "Employee Moonlighting" is certainly more prevalent in January, may be due to the financial pressures and constraints of Christmas and the requirement for an increase in income.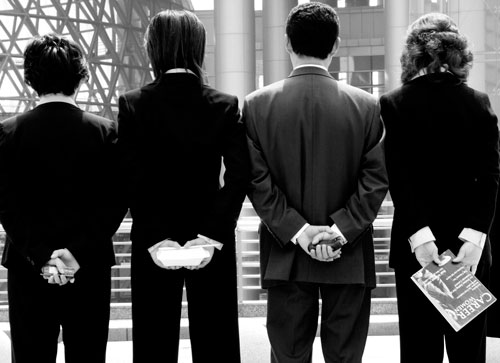 How can Employee Moonlighting affect your business?
An Employee Moonlighting that's based in Nottingham will almost certainly become less productive. They'll no doubt be demonstrating at least one of the above symptoms. They are more likely to be less loyal and passionate about your company. There may be a conflict of interest between your company and the second employer. Could this second employer be a competitor? Which then begs the question, Is your company data such as client base and future strategic plans safe?
If employee moonlighting is left unchallenged, the results to your company could be disastrous or even irreversible.
How can "Employee Moonlighting" be tackled?
Titan's investigation plans are bespoke; tailored to our client's individual requirements, budget, and objectives. The most common method, however, is surveillance. This provides you with the client with irrefutable video evidence which is gathered lawfully and handled appropriately in accordance with PACE Act 1984. This allows Titan to boast that our evidence will remain watertight if tested in a criminal court arena.
Feel free to browse our surveillance service page by clicking the below link where you'll be able to seek further information;
Titan Investigations Surveillance – www.titaninvestigations.co.uk/surveillance
Employee Moonlighting Nottingham Case Study
Titan was recently contacted by a client who owns numerous residential properties all over the world. A House Manager' is hired to coordinate the staff employed within the property and to ensure the hospitality of guests who visit.
One of the client's properties is based on a large estate in the Nottingham area where in excess of 15 staff were employed and managed by the House Manager. This included grounds staff, cleaners, drivers, and security personnel. The House Manager who had been employed for some 5 years by the client, had been recently noted by the security staff to be displaying different and out of character behaviors. Leaving the house when guests were present, arriving late and then only remaining for a couple of hours, sometimes not attending work for a number of days.
After a consultation with the client, surveillance ensued with the intention of revealing the movements of the House Manager. She was the subject of surveillance for a short period of time which revealed that whilst she was not at work, she was frequenting another residential dwelling, sometimes staying overnight. Open source and covert enquiries were made to identify the owner of the property and to uncover whether the employee was in actual fact employed at this address. Titan utilised their covert staff to attend the address posing as a courier with a parcel for the owner of the property which needed to be signed in person or by the most senior ranking member of staff. The timing was crucial to ensure that the owner of the property was not present. The delivery was made shortly after the owner had departed and signed for by our subject, identifying herself as the House Manager. This was not only a breach of contract by the employee being employed elsewhere but also a direct conflict interest for the client which resulted in her instant dismissal.
This was a positive result for the client, allowing him to get to learn the truth and protect the integrity of his home and staff.
Employee Moonlighting in Nottingham – Who do I contact?
One of Titan's dedicated Nottingham investigations team is awaiting your call which will be treated with the utmost confidence. Titan Private Investigation offer this service nationally and can be contacted or visited at one of the office locations below;
Employee Moonlighting in Nottingham – Call the Titan Investigations Nottingham Office 0115 824 2244


Employee Moonlighting in Derby – Call the Titan Investigations Derby (Head Office) 01332 650029

Employee Moonlighting in Leicester – Call the Titan Investigations Leicester Office 0116 326 0777
Employee Moonlighting in Sheffield – Call the Titan Investigations Office 0114 3032426
Employee Moonlighting in London – Call the Titan Investigations London Office 020 31371150
Alternatively, contact us by email at enquiries@titaninvestigations.co.uk or use our fully confidential contact form and one of our team will get right back to you or use our Live Chat facility to chat directly to one of our Nottingham Private Investigators.