Private Investigators Derby & Nottingham Best Rated
Titan Investigations – 3 Best Rated Private Investigators Derby & Nottingham
Looking for Private Investigators Derby & Nottingham? Titan Investigations is one of 3 Best Rated Private Investigation companies operating in both Derby and Nottingham. An established Private Investigator agency based in Derby on Pride Park and Nottingham on Friar Lane. We also have a further 6 offices in London, Cambridge, Leicester, Birmingham, Sheffield and Leeds which gives us a national reach.
Best Private Investigators in Derby
Best Private Investigators in Nottingham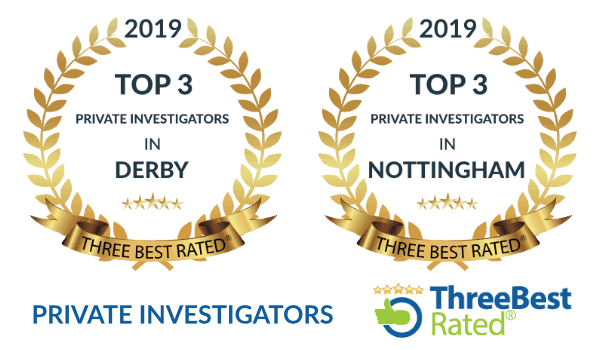 Private Investigators Derby & Nottingham – What services do we provide?
There are many services that Titan provide, however, if the required service isn't listed below then we may be able to advise you further by calling in for a free confidential consultation, confidential online chat, email or phone.
Private Investigators Derby & Nottingham Surveillance
This service is provided to private and corporate clients. The most common private client demand is for matrimonial enquiries. Corporate clients may utilise Titan for a range of reasons such as employee absenteeism, theft and fraud, intellectual property theft, graffiti, injury validation and moonlighting.
Surveillance costs £50/hour per operative plus VAT and we deploy a minimum of 2 operatives for a minimum of 5 hours. Basic surveillance utilising 2 operatives is, therefore, £600 inclusive of VAT. Longer periods of surveillance are commonplace.
Surveillance
Employee Absenteeism Investigations
Derby & Nottingham GPS Vehicle Tracking
This service is once again utilised by both private and corporate clients to monitor the whereabouts of partner's or employees. We deploy the GPS Vehicle Tracker covertly to the exterior of the vehicle and then allow you access via our website or a downloadable phone application. This allows you to monitor the vehicle real-time as it's happening or interrogate it historically.
The GPS Vehicle Tracker records all of its data and this can be downloaded so that you have a hard copy of a vehicle's movements during the tracking period.
All we require are the vehicle details and it's location. The rest can be left to our professional GPS Vehicle Tracking Team.
GPS Vehicle Trackers are £350 plus VAT per week but available for longer periods if required.
GPS Car & Vehicle Tracking Devices
Derby & Nottingham Person Traces
Person tracing may be utilised for many reasons such as tracing a debtor, a long-lost family member or friend or a former partner to serve legal documentation upon.
We require their name, date of birth or roughage and ideally a previous address, although this isn't essential.
Person tracing costs £200+VAT on a no trace no fee basis.
People Tracing & Missing Persons Investigations
Derby & Nottingham Graphology/ Handwriting Analysis
This is the analysis of genuine handwriting from an individual and comparing it to a document which may be in question. We require an electronic copy of all documents and at least 2 authentic examples of handwriting, whether that be signatures from for example an official document such as a passport or a driving license. These would need to be scanned and emailed to Titan's Graphology department for analysis. We then allocate one of our professional Graphologists who can prepare one of 2 reports.
The first is a report outlining an initial assessment which is not intended for court which costs £350+VAT.
The second is a report intended for the admission in court and contains a section 9 statement and more in-depth report. This costs £900+VAT.
This service may be used to identify the identity of a person writing malicious letters; or to prove the authenticity of a document such as a will, claim form, tenancy agreement or loan application.
We generally provide the report within 24 to 48 hours of instruction.
Graphology & Handwriting Services
Derby & Nottingham Process Serving
This is the serving of legal documents upon an individual or company. We collect and serve documents nationwide as required and provide a Certificate of Service and/ or an Affidavit.
This service is £150+VAT or in urgent cases £200+VAT.
Derby & Nottingham Polygraph Testing/ Lie Detectors
We only utilise professionally qualified Lie detector examiners who are members of the UK Polygraph Association. Our examiners perform the test at either one of our 8 offices or at a location of your choice such as a hotel or your home address. The test takes roughly 2 hours to conduct and the results are available for you directly after the test is completed.
The cost of Polygraph Testing is £700+VAT.
Polygraph Testing & Lie Detector Services
Derby & Nottingham Bug Sweeping / TSCM
Bug sweeping is commonplace in the corporate sector to ensure the integrity and security of sensitive information which may be valuable to competitors. There is also a demand by private clients who believe their homes or vehicles may be subject to listening/ video capturing devices or GPS tracking devices are deployed. Our professional TSCM team will visit your business or home and give you complete satisfaction as regards whether any such devices are present.
We provide a full report outlining our findings within 24 hours of the service being provided.
Prices are variable dependant on the size of the office or home.
Derby & Nottingham Physical Penetration Testing
Physical Penetration Testing is a method to test the current security processes and protocols that your company employs and to test the compliance of your staff. It's an excellent opportunity to test whether your business or organisation is safe or easily accessible to potential threats and vulnerabilities from both outside and inside.
Titan Private Investigation's penetration testing operatives are all former government operators with backgrounds as Counter Terrorism Security Advisors (CTSA's) and Crime Prevention Officers (CPO's) and fully insured to conduct this vital service. We will not only test your current security protocols by attempting to gain entry into your premises, but we will deliver a comprehensive report outlining recommendations for implementation.
The cost of this service varies dependant on the size of the premises, the number of exits and the number of locations where the requirement is needed.
Derby & Nottingham Surveillance Training
Titan is the preferred surveillance training provider for the IPI (Institute of Professional Investigators) which is one of the leading professional governing bodies for the Private Investigation Industry within the UK.
We offer a 5 Day Surveillance Training Course based on our Nottingham training facility which is designed for individuals who have no surveillance knowledge taught by former government surveillance training instructors with 131 years combined experience.
Titan doesn't stop there; we then enrol our successful students onto the industry-renowned 'GROW' Student Aftercare Programme where they are further developed whilst earning.
Private Investigator Surveillance Training
Hiring a Derby & Nottingham Private Investigator and what to look for!
What professional training and experience do you have?
There are roughly 10,000 investigators within the UK, some are former military and police trained, others are either self-trained or completed a civilian surveillance course.
Titan Private Investigation only employs highly experienced former Police Officers or Security Service personnel who have received strenuous government surveillance and investigation training and perfected their fieldcraft operationally.
Is the Investigator local?
Many detective agencies appear to offer national coverage. 0800 and 0845 numbers may offer you free or local rate calls but they can be used to mask their actual location. These companies generally charge a premium and subcontract the work to local companies.
Visit their website and look for a physical address or check where the domain name is registered to.
Titan Private Investigation is based in Derby City Centre on Pride Park and covers Derby, Nottingham, Leicester and the East Midlands predominantly, however, we frequently travel as far south as London and the Scottish borders in the north. We only use our own trusted, highly trained and experienced operatives.
Is the Private Investigator vetted?
Ask your Investigator of choice about their professional affiliations and memberships. The industry has many, however, The Association of British Investigators (ABI) is the one to look out for in our opinion.
The ABI has a thorough membership vetting process which checks criminal history, referees, competence, previous training and experience, insurances and finally, interviewed by a panel.
Titan Private Investigation is a full member of ABI (Association of British Investigators), IPI (Institute of Professional Investigators), UKPIN (UK Private Investigator Network), WAPI (World Association of Private Investigators) and ISO9001 Quality Management accredited. All of our operatives have signed and abide by a confidentiality agreement, are regularly checked for criminal records and registered with the Information Commissioner's Office (Data Protection).
Does the Investigator have insurances in place?
Professional Indemnity and Public Liability insurances are part and parcel of running a legitimate and credible investigation business.
Ask your private investigator about their cover?
Titan Investigations – Hiring a Private Investigator
What other Derby Private Investigation / Private Detective Agencies does Titan recommend?
Titan recommends Delta 74 Private Investigations as a professional and reliable Private Investigation Agency.
Delta 74 Private Investigations\
Who do I contact to discuss a Nottingham or Derby Private Investigator?
One of Titan Investigations Private Investigators Derby & Nottingham is awaiting your call which will be treated in the utmost confidence. Titan offers it's Private Investigation services throughout Derby and Nottingham the East Midlands and both nationally and internationally, we can be contacted as below;
London Private Investigators – Call Titan Investigations London Office 020 39046622

Birmingham Private Investigators – Call Titan Investigations Birmingham Office 0121 7162442
Cambridge Private Investigators – Call Titan Investigations Cambridge Office 01223 662022
Derby Private Investigators – Call Titan Investigations Derby Office 01332 504256
Leeds Private Investigators – Call Titan Investigations Leeds Office 0113 4574066
Leicester Private Investigators – Call Titan Investigations Leicester Office 0116 2436520
Nottingham Private Investigators – Call Titan Investigations Nottingham Office 01159 646950
Sheffield Private Investigators – Call Titan Investigations Sheffield Office 0114 3499400
You are also able to email via our fully confidential contact form and one of our dedicated team will get right back to you or use our Live Chat facility to chat directly with one of our Private Investigators Derby & Nottingham are waiting to discreetly discuss your requirements.