Professional Surveillance Training with Titan
Professional Surveillance Training — Is your job at risk, do you want to increase your income or change your career?
Professional Surveillance Training, why not train to become a surveillance operative with Titan Private Investigation Ltd?
Titan commenced delivering surveillance courses in 2017 in direct response to increased operational demand and the failings in current UK training providers to develop learners to a satisfactory standard. These companies appeared to be focused on revenue generation and provide conveyor belt training courses opposed to concentrating on the quality and commercial awareness of their end product.
Our instructors are all former Police Surveillance Operatives with a vast amount of commercial experience. Titan has taken important aspects from Police training and adapted them for the commercial sector and offer an NVQ Level 4 in Covert Surveillance Operations with awarding body SFJ Awards. Titan's 5-Day Surveillance Course is a non-profit-making venture and developed to purely allow Titan to meet their operational demand and attempt to raise the standards of training currently on offer.
More information – Titan Private Investigator Training
The main selling point of embarking on a Titan surveillance course over others is due to their "GROW" student aftercare programme.
More information – Titan Investigation Training GROW Aftercare
The "GROW" Student Aftercare Programme was developed by Titan to ensure the further development and their retention of their learners whilst earning within the industry. Many training providers are purely that, training providers. They may offer advice on gaining surveillance work and entering the industry; however, we have invested in our learners by in our opinion offering an advanced course and all whilst making no profit. This is our commitment to you!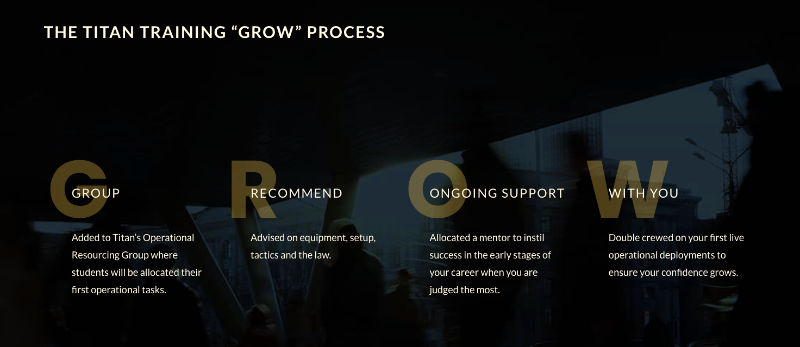 Recent "GROW" Student Aftercare Case Study
Titan Investigations commenced an NVQ Level 4 in Covert Surveillance Operations 5-Day Course on 5th October 2020. The course was run with reduced learner numbers, four in total with three instructors. Almost a 1:1 student/ instructor ratio. Many other providers provide a ratio of 1:3. Three of the four learners successfully completed the course and enrolled onto the "GROW" Student Aftercare Programme. By Wednesday 14th October, four days after completing the course all three students had been allocated their surveillance mentors. On Thursday 15th October, only five days since completing the course, one of the students was offered a developmental position as part of an already established professional surveillance team operating in Europe on an indefinite basis.
The learner who didn't meet the required course standard has been offered two further days of training on the next 5-Day Surveillance Course at no extra cost to give them every opportunity to reach the required standard and be eligible to join the "GROW" Student Aftercare Programme. In the meantime, the learner has been introduced to a company affiliated to the Titan Resourcing Group to develop their skills and to avoid skill fade.
This isn't the first time that Titan Private Investigation Ltd has deployed successful learners almost immediately post course. In March 2019 almost a week after completing the course, two learners were deployed on developmental positions within an established London based surveillance team for 8 weeks.
Is it safe to conduct surveillance training courses during the COVID-19 Pandemic?
Titan is a responsible training provider and both respect and abide by the constantly changing government advice and guidelines. We have developed and constantly reassess our COVID-19 Health & Safety Policy. As a direct result of the Pandemic, Titan currently runs courses with significantly reduced learner numbers meaning that they are not commercially viable and are running at a loss. Titan are still running courses to meet operational demand and invest in the development of future operatives. Other training providers are cancelling courses whilst stating its due to learner safety during COVID-19. Titan believes the real reason for cancellations is due to not being able to make profit out of you. As previously stated, ALL of Titan's courses are currently heavily subsidised by Titan and run at a loss. This is our investment to continue to meet operational demand and commitment to raising industry standards.
Titan's further investment into raising industry standards during the Pandemic lockdown was to devise an Online Surveillance Course which covers 17 modules of surveillance theory. This enables newcomers to the industry to gain an understanding of how to conduct surveillance or can be utilised as part of an individual Continued Professional Development (CPD).
More information – Online Surveillance Training Course
The online course has been hugely successful and is available Worldwide through the Titan Academy Student e-Learning Portal.
ALL learners who embark on Titan's 5-Day Surveillance Course are given access to the Online Surveillance Course prior to the commencement of the course. This forms part of the hours of distance learning required to complete the NVQ Level 4 in Covert Surveillance Operations.
Need more reasons to train with Titan Investigations opposed to other providers?
Titan is the preferred surveillance training provider for the Institute of Professional Investigators (IPI).
ALL of Titan's successful students are eligible for full membership of the IPI.
Titan's courses are advertised and available to buy on the Association of British Investigators (ABI) website.
Titan is passionate about surveillance and offers work to its successful learners' post course.
Titan's instructors all come from an operational government surveillance background with many years of commercial sector experience.
Titan subsidises its training courses during the Pandemic but have always been non-profit-making and devised purely to meet operational demand as opposed to revenue generating.
Titan runs no more than 4 courses a year to ensure the highest standards are achieved within the industry and is not a conveyor belt training provider.
Learners embarking on Titan's 5 Day Surveillance course are working towards an NVQ Level 4 in Covert Surveillance Operations with awarding body Skills for Justice (SFJ) priced at only £900.
But don't just take our word for it just take a look at our excellent surveillance training student feedback
Other training providers offering similar Professional Surveillance Training courses are priced as follows. This information was taken from their respective websites at the time of writing on 19th October 2020.
Titan – £900
Vanquish – £949
Argus Europe – £950
ISS Training – £995
TSG – £1110
How do I register my interest to attend a Titan Surveillance Training Course?
An expression of interest can be registered by visiting www.titaninvestigations.co.uk clicking on the "Titan Academy" and then the course of interest. There is then a tab to register interest. Alternatively, call one of our 8 offices from London to Leeds where one of our Training Team will be happy to advise you further.
London Surveillance Training Team – Call the Titan Investigations London Office 020 31371150
Birmingham Surveillance Training Team – Call the Titan Investigations Birmingham Office 01217162442
Cambridge Surveillance Training Team – Call the Titan Investigations Cambridge Office 01223662022
Derby Surveillance Training Team – Call the Titan Investigations Derby (Head Office) 01332 650029
Leeds Surveillance Training Team – Call the Titan Investigations Leeds Office 01134574066
Leicester Surveillance Training Team – Call the Titan Investigations Leicester Office 0116 326 0777
Nottingham Surveillance Training Team – Call the Titan Investigations Nottingham Office 0115 824 2244

Sheffield Surveillance Training Team – Call the Titan Investigations Sheffield Office 0114 3032426
Alternatively, contact us by email at enquiries@titaninvestigations.co.uk or use our fully confidential contact form and one of our surveillance training team will get right back to you or use our Live Chat facility to chat directly to one of Titan's private investigator training operators.