Surveillance Training Courses, But Which One?
Surveillance Training Courses with Titan Investigations
Surveillance Training Courses, there are many out there but which one should you choose?
Titan Investigations is an established National operational surveillance company which was founded and currently managed by a former Police National Counter Terror Surveillance Team Leader. To date, we have 137 professional surveillance operatives on our books, the majority of which are from a former government background with years of expertise and operational experience.
In 2017, in order to meet operational demand, Titan decided to invest in a number of developmental surveillance posts within the company to support newcomers to the industry and to bolster our operational capability. Sadly, we were shocked by the quality of operatives that were being produced by the majority of the current UK surveillance training providers and their inability to prepare students for the commercial sector. The main failings that we experienced were the inability to operate a camera, no knowledge of how to convert imagery to display the time/date stamp and not received any form of coaching in relation to basic report writing. As a result, the students, many of which of whom had passed a formal surveillance qualification, were completely unprepared for the commercial sector and required further training before they could be deployed by a company such as Titan Private Investigations Ltd which prides itself on 'Professionalism, Integrity, Discretion and Trust.'
These in our opinion are fundamental elements that a professional surveillance operative is required to possess, however, a student appears to still be able to be awarded a qualification after receiving no training in these areas. A surveillance team can work their socks off and be the best team in the world, however, there are two commonly used phrases within the commercial sector.
"If it's not captured on camera then it never happened."
"The client will judge a team's performance from the standard of the report and imagery contained within it."
It is key to have a stable camera platform and sharp in focus imagery. If you provide little imagery in a report which is poorly structured then the client will judge the performance of the operatives based upon this.
In response to this huge failing by the majority of the UK surveillance training course providers who churn out substandard operatives as part of their conveyor belt business model; In 2016 Titan developed a 5-day surveillance training programme. Our surveillance training programme was co-authored and instructed by 2 former government surveillance trainers with a wealth of both public and private operational and training experience.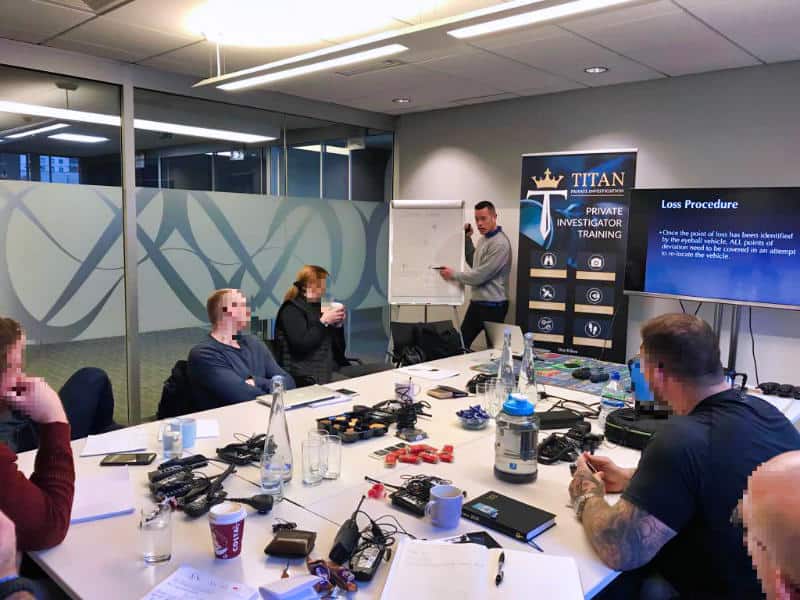 Titan's 5 Day Surveillance Training Courses
Surveillance Training Courses Information – titaninvestigations.co.uk/private-investigator-training/basic-surveillance-training
The Titan surveillance training course has been priced so as to be a non-profit-making venture, developed solely to meet operational demand and to raise the standards within the surveillance industry.
A brief overview of Titan's 5 Day Surveillance Training syllabus can be seen below, which you'll notice covers the 3 areas mentioned earlier which in our opinion are the failings of most newly qualified operatives.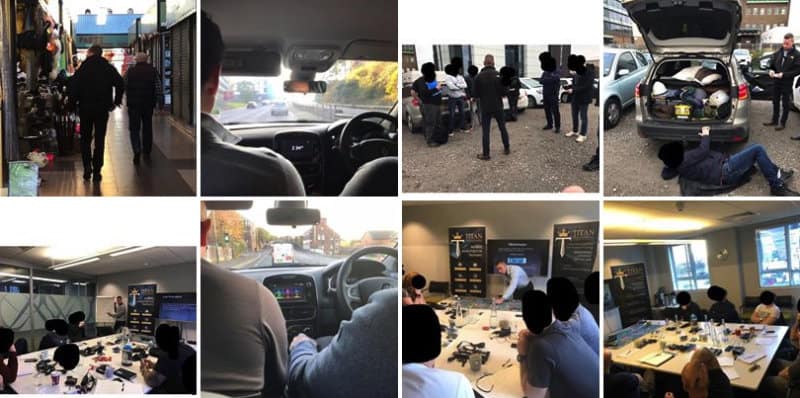 Titan Surveillance Training Course Syllabus
1: Current legislation

2: Foot surveillance
Foot surveillance as a team and solo
Glossary/ Voice procedure
Distancing
Use of cover
Plotting
Loss procedures
Close control
Public Transport
3: Mobile surveillance
Glossary/ Voice Procedure
Plotting
Convoy system
Stop and plot
Loss procedure
4: Navigation and Map Reading
5: Operational Planning
Reconnaissance
Operational Orders
Briefings
6: Report Writing

7: Methods of communication

8: Imagery
Our students are certainly put through their paces with the enhanced content which makes for a steep learning curve. Students receive one to one debriefs at the close of each day with their trainer where they are made aware of developmental areas and strengths. During the course each student will prepare 2 surveillance reports and learn how to convert imagery gathered throughout the day to display the time and date stamp. This course is designed to equip the student with everything they need to know to become a successful surveillance operative and not look stupid on their first deployment.
What do our students have to say about the surveillance course?
Titan Surveillance Training Courses Testimonials & Feedback – titaninvestigations.co.uk/private-investigator-training/training-testimonials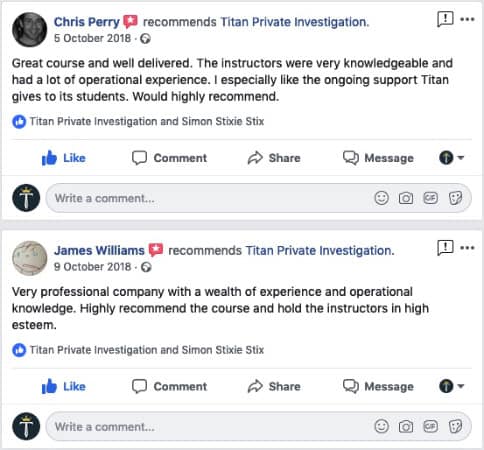 We don't stop there though!! Titan goes the extra mile to ensure employment, development and success!!
All successful students are entered onto Titan's industry renowned 'GROW' aftercare programme.
Aftercare is key, we don't just take your money, train you and then leave you to find your way within the industry. At Titan, we are proud of our 'GROW' aftercare program.
Group – Added to Titan's Operational Resourcing Group where students will be allocated their first operational tasks.
Recommend – Advised on equipment, setup, tactics and the law.
Ongoing Support – Allocated a mentor to instil success in the early stages of your career when you are judged the most.
With You – Double crewed or working with your mentor on your first live operational deployments to ensure your confidence grows.
Titan GROW Infomation – titaninvestigations.co.uk/private-investigator-training/student-aftercare-grow/
When are the Surveillance Training Courses?
2019 Surveillance Training Courses Dates
5 Day Surveillance Training Course – Monday 28/01/2019 (Fully Subscribed)
5 Day Surveillance Training Course – Monday 18/03/2019 (Fully Subscribed)
5 Day Surveillance Training Course – Monday 29/04/2019 (2 Vacancies)
5 Day Surveillance Training Course – Monday 17/06/2019 (2 Vacancies)
5 Day Surveillance Training Course – Monday 16/09/2019
5 Day Surveillance Training Course – Monday 11/11/2019
In January 2019, awarding body Industry Qualifications (IQ) developed a 'general' qualification in surveillance which is listed on the OFQUAL National Qualifications Framework. This was no doubt in response to the low standards in training within the industry and non-uniformity of training provided by the majority of UK training providers. The course is now listed on the National Qualifications Framework as an IQ Level 4 Certificate in Managing Surveillance Operations. From researching the course syllabus, it would appear that these three areas that Titan Investigations highlighted in 2016 have now thankfully been addressed. This can only be seen as a positive move in raising standards.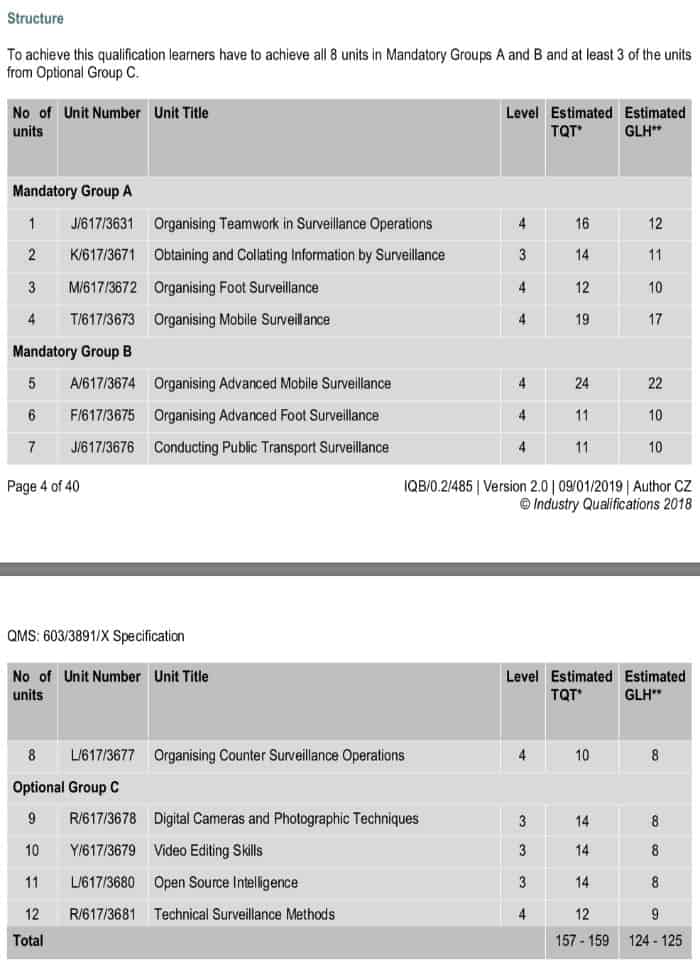 Surveillance Training Courses, who do I contact?
One of Titan's dedicated private investigator training team is awaiting your call, or alternatively, contact one of the below offices;
Private Investigator Training London – Call 020 39046622
Private Investigator Training Cambridge – Call 01223 662022
Private Investigator Training Derby – Call Head Office 01332 504256
Private Investigator Training Nottingham – Call 01159 646950
Private Investigator Training Leicester – Call 0116 2436520
Private Investigator Training 
Sheffield – Call 0114 3499400
Alternatively, contact us by email using our fully confidential contact form and one of our team will get right back to you or talk to us directly using our Live Chat or via our Facebook page.