Titan Surveillance Training An In-depth Look
Titan Surveillance Training Courses Deliver More Than Just Training
Titan Private Investigation Limited was founded in 2014 by its Managing Director Simon Henson, a former Detective Sergeant who managed and trained Police surveillance teams investigating serious organised crime and latterly counter terrorism Nationwide.
Titan is predominantly an operational investigation agency serving the UK's investigative needs whether that be on behalf of Private or Corporate clients. Our nine offices are located in London, Cambridge, Leicester, Nottingham, Derby, Birmingham, Sheffield, Leeds and Manchester.
In 2017 Titan devised a surveillance training arm to the company to ensure that as the company grew that we could resource future operational demand. In 2020 we decided to deliver the same course as a certificated industry recognised RQF Level 4 qualification enabling our learners to gain a formal qualification.
At Titan our training team are passionate about surveillance and raising the surveillance training standards within the UK. Our training team are all former Police surveillance operatives and trainers with a vast operational experience within the public and private sector.

Best Surveillance Training Course On The Market
Titan is currently the most popular, largest and cheapest surveillance training provider in the UK delivering eight surveillance courses per year. Learners choose Titan as their surveillance training provider as we are different to others. We don't only deliver a high end certificated course with a training team from a credible background in surveillance; we are able to offer our successful learners genuine operational deployments post course, ongoing development and offer them the best introductions to the industry to ensure that they have every opportunity to become successful professional surveillance operatives. There is no one who comes close to what Titan can offer which is the reason for our success. We deliver the advanced RQF Level 4 syllabus bar the night time surveillance and OSINT module as part of our 5 day surveillance course as you as operatives require this knowledge to be prepared for the operational rigours ahead and to hold your own. Titan is the preferred surveillance provider for the Institute of Professional Investigators (IPI) and we have nurtured a strong training collaboration with the institute over the past two years. All Titan graduates are eligible to  apply to the IPI as full members post course. The IPI (Institute of Professional Investigators) is a leading authority within the investigatory industry and provide both on going development and training and advice to their members.
Titan graduates are preferred by the largest UK surveillance providers as they know first-hand the quality of operative that we produce. Titan is seen as the superior training provider within the industry and there are very few professional operatives who do not know of, worked for or recognise Titan as such.
All of Titan's learners are provided with the Titan Online Course prior to the commencement of the five day surveillance course. This contains 17 modules of the theory of surveillance which takes circa 15 hours to complete. This enables our learners to hit the ground running.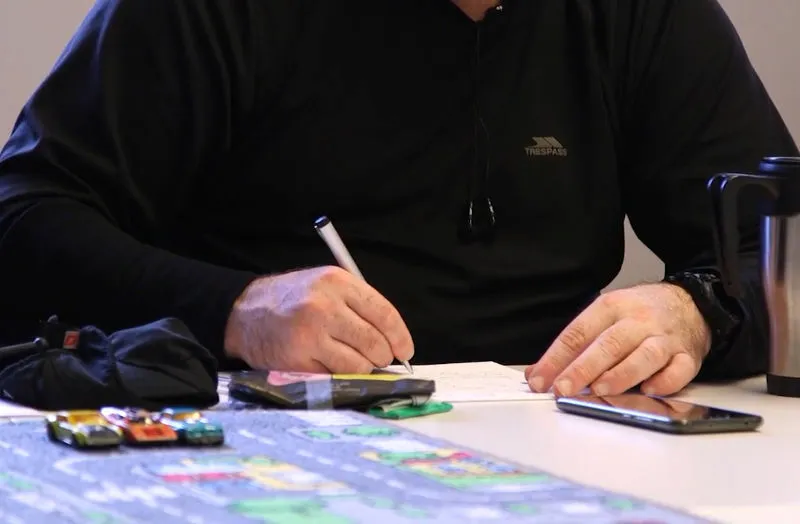 Surveillance Training Course Structure
The structure of the Titan five-day surveillance course allows the training team to continually build on the learner's knowledge and then assess its application constantly throughout the course. The days begin at 8am each morning and generally end at 6pm with the added allocation of pre-reads and homework. The days are long, which we don't apologise for as we have a lot to cover to get you ready for live operational deployments. We deliver two to three hours of theory from our Derby-based training facility which is classroom based each morning. Once this has sunk in, we go and practice it in a controlled city environment until it becomes muscle memory, and we don't turn in for the day until we reach this stage.
Training Course Day 1
Sees the introduction of basic foot surveillance. This includes the A, B, C foot formation, handing over the eyeball, use of cover, effective use of props, stop and plotting shops and the art of clearing corners to save over exposure.
Training Course Day 2
We build further on foot surveillance and deliver the public transport module. This is covertly following a subject on public transport whether that be by train, bus, tram or taxi. This is not included in the RQF Level 4 (Intermediate) syllabus and is classed as advanced. This in our view is a basic tactic and is required as a necessity to be a professional surveillance operative.
Training Course Day 3
We leave foot surveillance and the blisters behind and advance onto mobile surveillance. This is where the course really ramps up a level and becomes even more fun for the learners and instruction team. We are now covertly following a vehicle from a vehicle. We get to grips with the convoy system, handing over the eyeball, stop and plotting, use of cover, motorway surveillance and set procedures such as multi-storey car parks, motorway services and loss procedures.
Training Course Day 4
We culminate both foot and mobile surveillance to make sure both hours behind the wheel and also to prevent skill fade from days one and two on foot.
Training Course Day 5
This is what we've all been working for! The final exercise! This is as real as we can get to a live operation in the training environment. The teams will have performed recces and risk assessments as homework in the evenings earlier in the week and deliver their operational order for the day to the surveillance team. The final exercise incorporates all elements that have been delivered and rigorously practised throughout the course. At the end of day five you get the opportunity to attend a full debrief with your subject. This feedback is crucial as in the real world you won't or shouldn't gain feedback from a subject. This is where you will gain the opportunity to ask the subject questions about specific individual aspects of the day's surveillance and your performance individually and as a team.
This course isn't attendance based only. Learners are continually assessed and appraised of their developmental areas and strengths to make sure that we get the best out of our students.
Additional elements that we cover during the five days are;
Preparation and Planning,
Minimising Risk
Evidential Logs
The Law
Subject Identification
Anti & Counter Surveillance
Static Observation Points
Supporting Evidence
Motorcycle Surveillance
GPS Tracking Devices
GROW Student Aftercare
Post training course all successful graduates are eligible to apply to the IPI (Institute of Professional Investigators) as full members and are also enrolled onto the industry renowned Titan GROW Student Aftercare Programme. This is where we differ from other training providers as Titan Investigations can offer its Graduates the opportunity of live operational surveillance deployments as we are predominantly an operational investigation agency. We introduce the successful learners to just shy of 300 sole traders/operational companies whose profession is surveillance. We add Graduates to the Titan Operational Resourcing Group where they can network with professionals, ask questions, ask advice and gain operational deployments to develop them further whilst earning.
GROW is our student aftercare acronym which stands for:
GROUP – Students are added to Titan's operational resourcing group where they will be allocated their first surveillance tasks.
RECOMMEND – Advised as regards equipment, setups, tactics and the law.
ONGOING SUPPORT – Students are allocated a mentor to instil success in the early stages of their career when you are judged the most.
WITH YOU – Double crewed on your first live operational deployments to ensure your confidence grows.
Titan Surveillance Training really is the real deal and leads to work unlike others, so there really is no reason to look any further. Come and train and grow with Titan.
Titan Surveillance Training! Achieving Perfection!
So who do I contact to enrol with Titan Surveillance Training?
To make an enquiry with Titan's training team contact one of the below offices;
London Private Investigation Training Office – Call the Titan Investigations London Office 02039046622
Birmingham Private Investigation Training Office – Call the Titan Investigations Birmingham Office 01217162442
Cambridge Private Investigation Training Office – Call the Titan Investigations Cambridge Office 01223662022
Derby Private Investigation Training Office – Call the Titan Investigations Derby (Head Office) 01332504256
Leeds Private Investigation Training Office – Call the Titan Investigations Leeds Office 01134574066
Leicester Private Investigation Training Office – Call the Titan Investigations Leicester Office 01162436520
Nottingham Private Investigation Training Office – Call the Titan Investigations Nottingham Office 01159646950
Manchester Private Investigation Training Office – Call the Titan Investigations Office 01613023008
Sheffield Private Investigation Training Office – Call the Titan Investigations Sheffield Office 0114349940
Alternatively, contact us by email at enquiries@titaninvestigations.co.uk or use our fully confidential contact form and one of our team will get right back to you or use our Live Chat facility to chat directly with one of our Surveillance Trainers.