Professional Private Investigator Training With Titan Investigations
Interested in Training to be a professional Private Investigator?
Well look no further! Titan Private Investigations offers an array of professional Private Investigator training courses delivered from our Derby based training facility.
These courses are;
The most popular course by far is Titan's 5 day RQF Level 4 surveillance training course written specifically for newcomers to the industry and will equip students with everything they need to know to succeed in this exciting industry. We deliver the 10 day advanced course syllabus bar the night surveillance module in 5 days. Our learners will receive the intermediate qualification due to the total qualification time set by the awarding body to achieve the advanced qualification. We believe our learners require an advanced syllabus as the intermediate has so much important information and tactics missing which are basic requirements. To mention a couple; Stop & Plot, Public Transport.
Once our learners have reached the required standard and successfully completed the surveillance course, we enrol our graduates on the Titan GROW Student Aftercare Programme where we further develop them. Unlike the majority of training providers within the UK, we are a busy operational surveillance provider, so you have the work to further develop yourself while you earn. We don't promise work, but the work is there for you to take should you wish to.
At the point of writing this, over the last 7 days, Titan had 27 operational deployments, an average of almost four per day.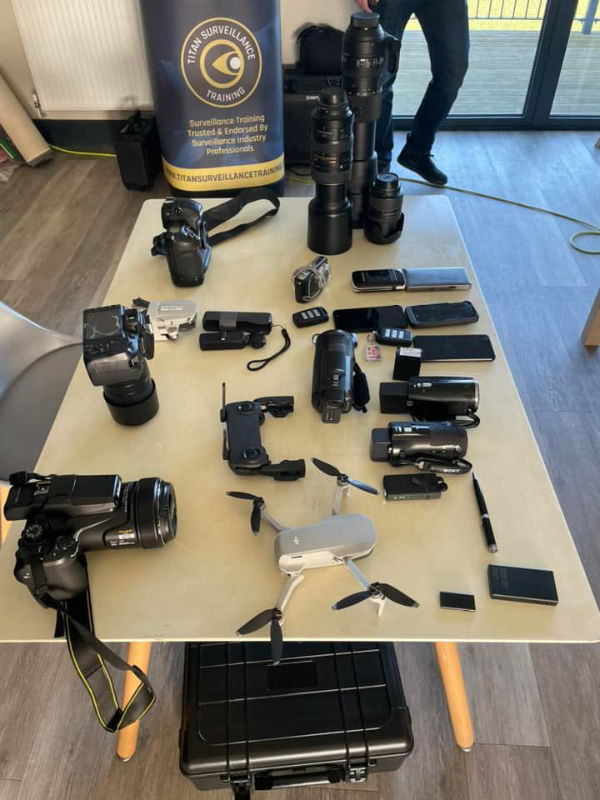 Why choose Titan over other surveillance training providers?
Titan's courses are designed and delivered by former government surveillance operatives. The 4 instructors have 85 years of combined operational experience working on some of the most sensitive operations and against targets who pose a direct threat to National Security. When you enquire about professional Private Investigator training or surveillance courses, ask the training provider what surveillance background they have. Have they received government training and worked at the highest level in this capacity or are they self-taught and written a book?
Titan is more than happy to put you in contact with former students so that you can hear about their experiences of becoming established within the industry. Alternatively, some of our students have left video testimonials which can be viewed below.
Private Investigator Training Course Feedback
Titan's courses are easily accessible by road, rail and air, making Titan a superb choice of training provider within the Midlands.
Titan's Training Centre is conveniently located within easy reach of the M1 motorway, only six miles from Derby Train Station – where students can travel 90 minutes direct from Central London – and within a 30-minute drive of East Midlands Airport.
Chosen for its metropolitan ambience and varied infrastructure, Titan's foot training is predominantly based in Derby and Nottingham City Centre, which boasts a full quota of public services and transportation, making it the ideal location in which to learn/ practice foot surveillance.
Derbyshire County is again the ideal backdrop in which to practice mobile surveillance as it provides versatility through easy access to rural areas, airports, and motorway networks. Training designed/ based around complex environments such as these will provide students with the knowledge and adaptability to be able to operate in most city, urban and rural settings.
Meet Titan's Private Investigator & Surveillance Training Team
Senior Instructor: Simon Henson
Simon brings a wealth of operational experience to Titan's surveillance courses. He began his police service in 1997, where he quickly diversified into the covert world, operating as a surveillance operator/investigator and specialist surveillance motorcyclist. He operated on serious organised crime and, latterly, counter terror on a national basis.
In the commercial sector Simon has worked within the top tier of the industry's leading operations worldwide.
Instructor: Brian Collins
Brian has 30 years' experience in Law Enforcement as a Detective Sergeant and Senior Manager. The majority of his service was focused on investigating organised criminality. He specialised in investigations incorporating conventional, technical and rural surveillance, working in Force Major Crime Units, Regional Crime Squad, National Crime Squad and a Government Agency. Since retiring in 2014, Brian established his own successful investigation business focusing on surveillance and workplace investigations. Brian is also the Deputy Principal at the Institute of Professional Investigators. Brian holds a training qualification and delivers training in a variety of covert investigative tactics, professional investigators course and Safeguarding.
Instructor: Guy Cooper
Much of Guy's thirty-year police career was dedicated to specialist and covert operations including surveillance and particularly human source management and control at local, regional, national and international levels in the national security and domestic extremism environment within Special Branch and the counter terrorism intelligence network.
On retirement from the police service, Guy retrained as an instructor and SIA Licenced Door Supervisor and Close Protection Operative and worked with UHNW clients in the Caribbean, Monaco, mainland Europe and the UK.
More recently, Guy has worked freelance as a close protection operative, surveillance operative and investigator in the commercial sector and has built a client base for OSINT research and analysis and operational briefing for high profile events and UHNW clients.
Instructor: Daniel Burke
Daniel was a Royal Marine Commando for eight years when he served in Afghanistan as part of the Brigade Reconnaissance Force where his main objective was to build an intelligence picture on targets. Daniel joined the commercial surveillance industry in 2016 and has been deployed throughout the UK, Europe and further fields ever since on live operational deployments. It's great to have Daniel on board.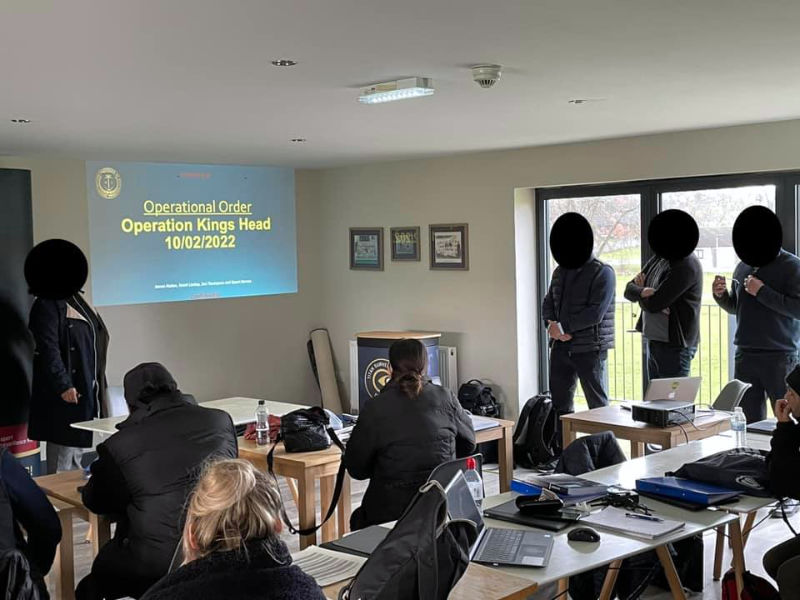 Professional Private Investigator Training who should I contact?
To make an enquiry with the Titan's professional Private Investigator training team, contact one of the below offices;
London Office – Call the Titan Investigations London Office 02039046622
Cambridge Office – Call the Titan Investigations Cambridge Office 01223662022
Leicester Office – Call the Titan Investigations Leicester Office 01162436520
Nottingham Office – Call the Titan Investigations Nottingham Office 01159646950


Derby Office – Call the Titan Investigations Derby (Head Office) 01332504256
Birmingham Office – Call the Titan Investigations Birmingham Office 01217162442
Sheffield Office – Call the Titan Investigations Sheffield Office 01143499400
Leeds Office – Call the Titan Investigations Leeds Office 01134574066
Manchester Office – Call the Titan Investigations Office 01613023008
Alternatively, contact us by email at enquiries@titaninvestigations.co.uk or use our fully confidential contact form and one of our team will get right back to you or use our Live Chat facility to chat directly with one of our Private Investigator Trainers.