Why use Titan Private Investigation Ltd over other Investigation Agencies?
The main reason is our people! Titan's Managing Director, Simon Henson, has a credible investigation history within the Police conducting investigations since 1997, some 26 years.
In 1996, Simon completed his studies at University after studying Business & Finance.
In 1997, to shut his family up after accusing him of wasting a university education, he reluctantly applied to Nottinghamshire Police, who were recruiting at the time. To his dismay, he successfully passed the initial paper sift application and then went on to many different assessment centres. Each phase he passed the more he wanted to join the Police and finally was accepted.
During his Police career, he was a uniformed Police Officer for a short period before specialising in covert surveillance. Initially, he was involved in the disruption of Nottinghamshire's serious and organised crime syndicates, which involved having to be armed. And latterly as a Detective Sergeant on a Counterterrorist Investigation team following individuals who had been "profiled" as potential terrorists.
Titan Investigations, the early years
In 2014, after 17 years of Police service, he made the difficult decision to leave the Police and pursue a career in 'civvy street'. At first, because of his previous training, he trained as a Close Protection Operative. He worked with some important people from other countries when they visited the UK. He quickly identified that this wasn't for him. It was whilst on a task that an operative he was working with who knew his background asked him why he wasn't working within the surveillance industry. Simon didn't know that there was a surveillance industry in 'civvy street'. So he joined some surveillance forums and networked a bit and met a man in the West Midlands who ran an established Investigation agency. He recognised Simon's previous training and saw his potential. He took him under his wing, taught him the commercial pricing and fed him with work. Simon connected with other investigation businesses and soon became the go-to surveillance subcontractor. He grafted! Sometimes working 18-hour days, got home late, slept on a sofa in his kitchen for a few hours so as not to wake the family and was on the road again to the next surveillance job where ever that may be in the UK. It's a lifestyle he states that can't be sustained long term, but he managed to do it for 4 years. During this time, everything he earned went into building a website, online presence and a business.
Slowly it paid off. The phone started to ring due to the heavy investment he had made into search engine optimisation for the website.
From year 5 onwards, he has been purely office based and performs a role managing the surveillance and other instructions that come in day to day.
So where is Titan Investigations now?
Today, Titan has 9 offices from London to Manchester located in London, Cambridge, Leicester, Nottingham, Derby, Birmingham, Sheffield, Leeds and Manchester.
Titan has 284 subcontractors on its books covering England and Wales.
Titan Investigations is the Institute of Professional Investigators' preferred surveillance training provider and delivers a RQF Level 4 surveillance course, which is an industry-recognised qualification. Titan don't stop there though. All of their successful graduates are enrolled into Titan's "GROW" Student Aftercare Programme. This is where they develop their graduates further whilst providing them with work. They are added to the Titan Operational Resourcing Group where the 284 other members/company owners also post their work. This enables graduates to put their hat in the ring for work which requires resourcing.
This is why people come to Titan!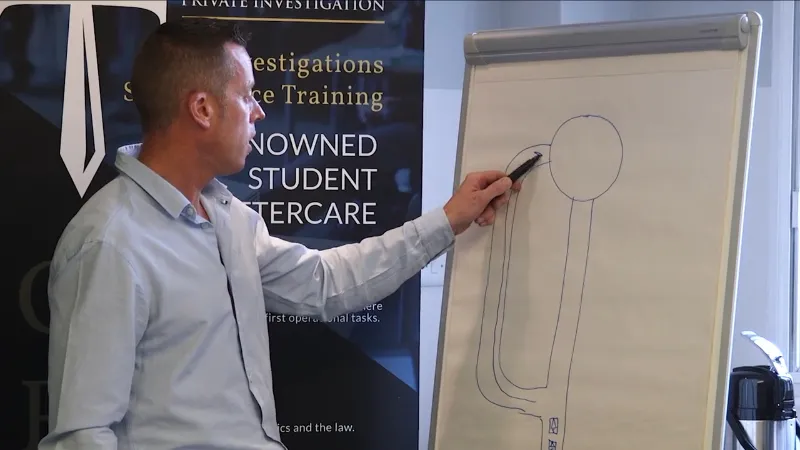 So what services does Titan offer?
Covert surveillance either to private or corporate clients.
It may be that you think your partner is cheating, or a company may have suspicions over the integrity of a Director.
Maybe a person has had an accident, and it is not believed that the injuries sustained are as bad as they are purported to be by the claimant.
Process Serving, which is the serving of legal documents.
Physical Penetration Testing where we test the physical security of a building.
Person tracing UK wide. We can trace anyone within 24 hours from a name and date of birth.
Graphology and handwriting analysis, which is where we assess whether a signature or piece of handwriting has been written by the legitimate author.
Polygraph testing.
EyeDect lie detector testing
Background checks
Can Titan help you or your business or do you wish to be professionally trained and join this exciting industry?
Who do I contact for more information or to instruct Titan?
One of our professional case handlers is happy to discuss your needs in a free confidential consultation.
London Corporate Investigations – Call the Titan Investigations London Office 020 39046622
Birmingham Marital Investigations – Call the Titan Investigations Birmingham Office 0121 7162442
Cambridge Private Investigations – Call the Titan Investigations Cambridge Office 01223 662022
Derby Private Investigations – Call the Titan Investigations Derby (Head Office) 01332 504256
Leeds Private Investigations – Call the Titan Investigations Leeds Office 0113 4574066
Leicester Private Investigations – Call the Titan Investigations Leicester Office 0116 2436520
Nottingham Private Investigations – Call the Titan Investigations Nottingham Office 0115 9646950
Manchester Lie Detector Test – Call the Titan Investigations Office 0161 3023008
Sheffield Private Investigations – Call the Titan Investigations Sheffield Office 0114 3499400
Alternatively, you can contact us directly using our fully confidential contact form at enquiries@titaninvestigations.co.uk or chat directly using our Live Chat facility and one of our private investigations team will get right back to you.