Physical Penetration Testing Leeds Businesses
Are your Company Security Protocols GDPR Compliant? Titan's Leeds Private Investigator Experienced Penetration Testers Could Be Your Answer.
Physical Penetration Testing Leeds business, companies and Organisations. Titan Investigations was founded by a former counter-terror police officer and been conducting investigations since 1997. Our Leeds office is based in the LS7 postcode with a further 6 offices based in London, Cambridge, Sheffield, Nottingham, Derby and Leicester giving us a National reach.
Titan Private Investigation offers a physical penetration testing service which is designed to highlight any security vulnerabilities and weaknesses within your physical security protocols, policies and procedures. We will demonstrate unauthorised infiltration and make recommendations to bolster your impermeability by intruders. Our penetration testing operatives are fully insured and all former government employees who have worked in buildings that retain secret and top-secret government protective marking scheme (GPMS) documents, systems and information. We predominantly deploy in the Derby, Nottingham, Leicester and Sheffield areas, however, due to our central location we are able to offer this Nationwide.
Our attack simulation objectives are to:
Identify physical security control flaws present.
Identify the level of risk for your organisation.
Recommend solutions
Physical Penetration Testing is a great way to test the current security processes and protocols that your company employs and to test the compliance of your staff. We're experiencing that with the introduction of General Data Protection Regulation (GDPR) on 25th May 2018 there has been an increase in demand for this service. It's an ideal opportunity to test whether the data you hold is safe or easily accessible to potential intruders. The fines for non-compliance are expected to be vastly increased from any previous penalties and no doubt an example will be made of companies initially to send out a stark message to others who are non-compliant.
Titan Private Investigation's penetration testing operatives are all former government operators with backgrounds as Counter Terrorism Security Advisors (CTSA's) and Crime Prevention Officers (CPO's) and fully insured to conduct this vital service. We will not only test your current security protocols by attempting to gain entry into your premises, but we will deliver a comprehensive report outlining recommendations for implementation.
Physical Penetration Testing, So Who Might Require This?
Companies who hold sensitive and/ or personal information.
Organisations which store items reported and monitored by Schedule 5 of the Crime & Security Act 2001.
Establishments that have security processes in place to protect company assets and their staff.
Any company who wishes to reduce their insurance premiums by proactively testing penetration.
Companies that have a theft culture.
Maybe you have servers at your premises and are interested to see if they can be breached.
Financial institutions
Companies that feel they may be or have been targeted.
Organisations which incinerate controlled substances and/ or seized contraband. Maybe you want to test the security of the company you utilise for this or you provide incineration services and want to prove to your client that you are secure.
Businesses that store harmful chemicals.
Establishments that want to see first-hand if their staff are complying with security policies that are in place.
To test your GDPR compliance.
Any company who wishes to test how easy or hard it is to gain access to their buildings.
What are the benefits of Physical Penetration Testing?
Reduces insurance premiums.
Demonstrate to CTSA's that you are serious about security and the items you store.
Seen favourably by licensing review boards.
Keeps your information, assets and staff safe.
Reduces the likelihood of a business becoming a victim of crime.
So what is our Physical Penetration Testing methodology?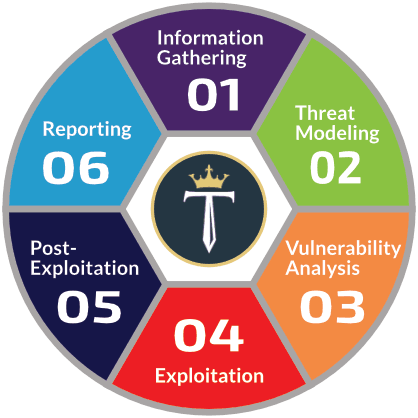 Information Gathering

Threat Modeling

Vulnerability Analysis

Exploitation

Post-Exploitation

Reporting




Passive Reconnaissance
This is the initial phase of any penetration by using tools such as Google Earth to learn about the environment and surroundings of the target premise.

Open Source Intelligence
This is the intelligence-gathering stage, collecting data through social media, notice boards and registers.

Active Reconnaissance
This phase is aimed at gathering further intelligence which isn't available online. It may include sending emails, making telephone enquiries and directly approaching staff.

Covert Observation
Observations are key, it identifies discrepancies in the environment gathered at the passive reconnaissance phase, identifies current security barriers such as CCTV, barriers, ID cards and entry methods.

Attack Planning
Once the information has been gathered our operatives plan the penetration which will include contingencies and cover stories.

Pretexting
This involves finalising the attack plan and ensuring the team's equipment, transportation and kit is ready to deploy.

Post exploitation
Once the attack has been made a full debrief is conducted and a comprehensive report is compiled documenting our findings and recommendations which includes imagery of the assault.

Physical Penetration Testing – Who do I contact?

One of Titan's dedicated team is awaiting your call which will be treated in the utmost confidence. Titan offer this service nationally and can be contacted or visited at the locations below;

Physical Penetration Testing London – Call Titan Private Investigation London Office 020 39046622
Physical Penetration Testing Cambridge – Call Titan Private Investigation Cambridge Office 01223662022
Physical Penetration Testing Leicester – Titan Private Investigation Leicester Office 0116 2436520
Physical Penetration Testing Nottingham – Titan Private Investigation Nottingham Office 0115 9646950
Physical Penetration Testing Derby – Titan Private Investigation Derby (Head Office) 01332 504256
T
Physical Penetration Testing Sheffield – Call Titan Private Investigation Sheffield Office 0114 3499400
Physical Penetration Testing Leeds – Call Titan Private Investigation Leeds Office 0113 4574066

You can also contact us directly using our fully confidential online form and one of the Titan Leeds private investigators will get right back to you or use our Live Chat facility to chat directly with one of our Leeds Physical Penetration Testing team.