Surveillance Training and Insurance Claims Validation
Insurance Claims Validation and Surveillance Training Operatives
It's no secret that loss adjusters, insurance companies and solicitors utilise surveillance teams to assess whether claims are genuine and as life-altering as the claimant purports them to be.
We were shocked by the lack of professionalism when informed by one of our clients of a compromise that a large national surveillance company experienced whilst conducting a claims validation instruction. The operative wasn't only not covert, but after gaining attention from the subject's husband and subsequent challenge, were unprepared. They divulged both the surveillance email instruction and their company identification card constituting a full compromise of the task and breaches of the General Data Protection Regulation. In my opinion, the operative isn't to blame here; the surveillance company is for deploying an inexperienced operative on their own, no doubt being paid less than the industry rate and charging the insurer for 2, with little or no training and no feasible cover story. This isn't only dangerous but flouts all moral and professional obligations that a company should uphold. This, in my opinion, adds further weight for the private surveillance industry to be licenced and regulated to avoid such unprofessional acts and rogue companies continuing to operate.
Surveillance Operative's Identification Card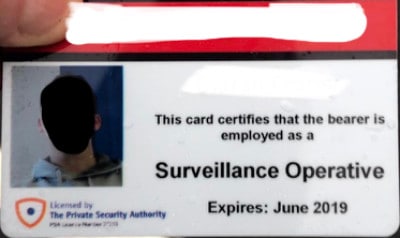 Surveillance Email Instruction (operational order)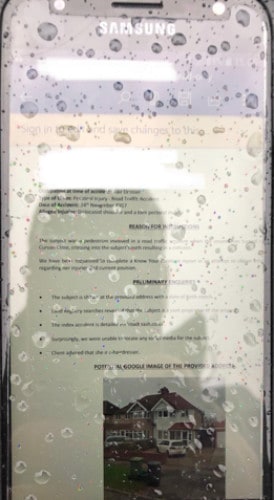 So why is Titan Investigations highlighting this?
At Titan, we're passionate about surveillance and raising the standards within this unlicensed and scrupulous industry where there is no basic qualification or entry level. There is nothing stopping anyone developing a shiny website, buying a camera or becoming a surveillance training provider with no appropriate credentials. Many of the operatives operating within the industry aren't trained and offer a substandard service which only hinders the industry and lowers its reputation further. At Titan, we pride ourselves on professionalism, integrity, discretion and trust. We are a full member of the Association of British Investigators which is endorsed by the Law Society of England and Wales.
Titan Investigations Managing Director has been conducting investigations nationally since 1997 and we only employ operatives who have the correct skill base and experience for our tasks to ensure covertness and professionalism at all times. We have 7 offices located in London, Cambridge, Leicester, Nottingham, Derby, Sheffield and Leeds which provides us with a national reach. We resource our tasks with a minimum of 2 operatives who are fully trained, insured, data protection registered, DBS checked and are in possession of the correct equipment. We don't just resource tasks with any operative, we ensure we have the right operatives available so that it is conducted properly, professionally and covertly.
Titan Investigations became a surveillance training provider in 2016 to meet our operational demand and to combat the poor quality of operatives that were being churned out by the majority of existing conveyor belt UK surveillance training providers. This is a non-profit making venture for Titan with the sole intention of raising standards within the industry and allowing Titan Investigations to be able to meet our operational demand. Our training facility is based in the heart of Nottingham providing our students with the knowledge and practical experience in briefings and recces, foot and mobile surveillance, public transport, imagery, report writing, counter and anti-surveillance familiarisation and technical surveillance.
More Information – Titan Private Investigator Training Course
We don't stop there though! We have an industry renowned student aftercare programme, GROW to ensure our students have every chance to gain further development whilst conducting surveillance and being paid the correct industry rate of pay.
More Information – Titan GROW Student Aftercare Programme
G – GROUP
We enrol successful students onto Titan's Resourcing Group where there are 170 other surveillance operatives and company owners who seek to resource their surveillance tasks.
R – RECOMMEND
Support and advice are offered in relation to the law, equipment and business setup to ensure every success.
O – ONGOING SUPPORT
Our students are allocated a mentor to guide them through their initial tasks.
W – WITH YOU
Students, where possible are double crewed or conducting tasks with their mentor in the early stages.
More Information – Private Investigator Training Course Video
Research your Private Investigator & Surveillance training provider!
How many courses have they previously run?
What is the background of the trainers and course authors?
What happens to the students after the course? (Do they continually search for work and try to get a foot in the industry?)
At Titan, we're transparent about our training and standards and won't shy away from answering questions from prospective students on any media platform. Unfortunately, we can only look after our own students and don't take responsibility for other training provider's shortfalls in aftercare. This week alone we have received 3 CV's from students looking for work who have been trained elsewhere.
Read our student testimonials – Private Investigator Training Testimonials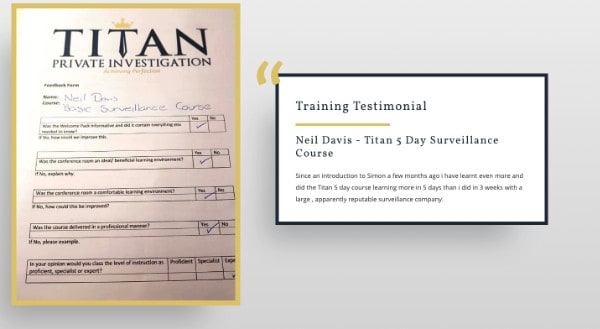 Who do I contact for more information regarding surveillance training, claims validation tasks or the Titan group?
You can speak to a member of Titan's Claims Validation and Surveillance Training Team by contacting one of Titan Private Investigations Ltd's 7 offices located across the UK.
London Private Investigator Training – Call Titan Investigations London Office 020 39046622
Cambridge Private Investigator Training – Call Titan Investigations Cambridge Office 01223 662022
Derby Private Investigator Training – Call Titan Investigations Derby Office 01332 504256
Nottingham Private Investigator Training – Call Titan Investigations Nottingham Office 01159 646950
Leicester Private Investigator Training – Call Titan Investigations Leicester Office 0116 2436520
Sheffield Private Investigator Training – Call Titan Investigations Sheffield Office 0114 3499400
Leeds Private Investigator Training – Call Titan Investigations Leeds Office 0113 4574066
For more information or advice about our Protective Surveillance and Private Investigation Services, you can contact us directly using our fully confidential contact form and one of our dedicated team will get right back to you or use our Live Chat facility to chat directly with one of our Private Investigators.